Holiday light display cancelled, toy drive continues
The Athens Drive student council was going to host a holiday light display on the football field, Dec. 11 but it was cancelled due to the rise of Covid-19 cases in the county. Each party was going to be charged with the proceeds going to benefit charities. The student council and faculty members had planned to come to the school during the afternoon to decorate trees and install different types of holiday lights. That evening, the students would come to the school and view the different displays.  It was planned to be a 'drive through event in order to ensure that all safety protocols for Covid-19 were adhered. Instead attendees would drive their car around the stadium to see the different items set up for the event.
"It is with great sadness that I let you know that I have decided to cancel our Friday night Holiday Lights Drive-Through event," said Principal Stephen Mares during a phone announcement to the students and family of Athens Drive.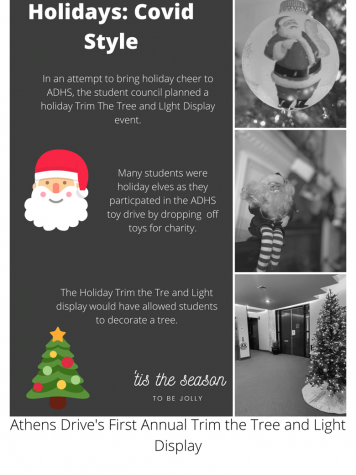 Principal Mares made the decision to cancel the event Monday, Dec. 9. Concern over the rising number of positive Covid-19 test results, many activities are now being placed on hold or completely cancelled. Mares determined that the event could pose a threat to the students, staff and family members that would be involved and that the responsible act to ensure everyone's health and safety was to cancel the event this year.
"We were excited to be able to finally be at Athens and see our friends, even if it was from our cars,"  said Daniel Shoaf, s
enior.  "It has been hard to be having classes only at home and not seeing many of my friends."
Not all portions of the event were cancelled. The school's Future Farmers of America (FFA) chapter hosted a holiday toy drive. People were encouraged to bring a new toy for a donation; many different school organizations had already collected toys from their members.
"Coach Webster requested we all donate toys to help the cause.  I really enjoyed going out and finding a toy to bring to the school for the event," stated Christopher Losi, senior.
  Members of FFA were collecting the toys the afternoon of December 11 between 2:30 pm and 5:00 p.m. in the stadium parking lot. 
The toys that were brought were then donated to Toys for Tots. Toys for Tots has been delivering toys to less fortunate families since 1947. The company has given around 584 million toys to over 265 million families. Toys for Tots has a mission to assist the U. S. Marine Corps in providing a tangible sign of hope to economically disadvantaged children around the holidays. 
"I'm so glad people were able to provide toys despite the pandemic," said Emma Rose Church, senior in FFA