Wake County allowing immediate family to attend athletic events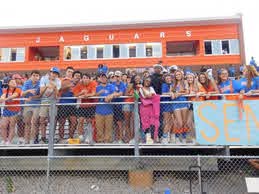 Sam Bost, Sports Copy Editor
December 4, 2020
The Wake County Public Schools System (WCPSS) has officially announced that there will be no in-person fans allowed at athletic events until Nov. 30. Starting Nov. 30, immediate family will be allowed to attend athletic events. This is just one of the many precautions that are being taken amid the coronavirus pandemic. 
This decision will have a great effect on the atmosphere of events throughout the season. At most high schools, sporting events are places where the student body comes together to support their athletic teams. With the decision to not allow students to attend, the WCPSS has altered one of the main aspects of school sports. 
Shorter schedules and limited fans will completely change the intensity of the games. Athletes often play for the fans, so without fans it will be much more difficult to keep the same energy throughout the game.
"Athens Drive Nation has been extremely supportive of Athens soccer. It's not just at the games, but in the hallways and classrooms, and from students, teachers, and administrators. So we will absolutely miss ADN at games," said Jeff Nelson, head coach of the men's varsity soccer team.
While the potential to play the entire season with only limited fans is still very high, Athens Drive sports teams are confident that they can maintain intensity and focus throughout the season. Without fans, teams will have to build their own intensity as they can no longer rely on the support of crowds.
"We have a really good group of motivated guys that all desire to do really well this year and I am very confident that they can remain focused and motivated without fans this season," said Josh Burkhardt, senior.
Athens Drive also plans to continue their live streaming service, which is a monthly of $10.99 or yearly subscription of $69.99. The service offers access to all sports games as well as many other previous games on demand. However, when stadiums reopen, it is still undecided how ticket prices will change. 
When the limited fans are allowed to return to the stands, new safety protocols will be in effect. Masks and social distancing will be crucial in order to keep fans safe while attending games. Temperature checks and COVID checklists will also be required to enter. 
"The first priority for me is giving the kids an opportunity to play athletics this year…fans and spectators are awesome and that's one of the things that separates high school from club sports…but I think the primary focus is making sure everything is safe," said Travis Seese, athletic director.