Athens Drive students save life on the job at Cambridge pool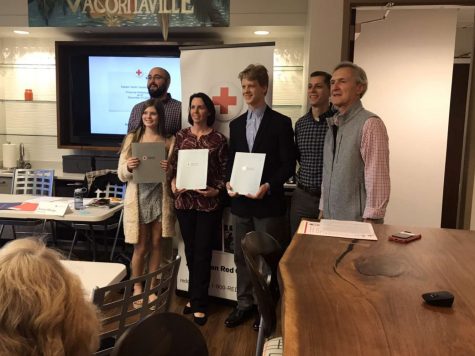 Athens Drive students Joey Bridgham, junior, and Brooke Buczeck, sophomore, helped save a woman's life while on the job last summer, working with two other lifeguards to resuscitate a woman who collapsed on the pool deck at Cambridge. They worked with their manager, Jenny Rucker, to accomplish the daunting task.
"I was taking the chemicals out at my pool and I heard the emergency whistle. I turned around and I saw a woman on the ground. I ran to where the body was and my manager was already there doing mouth to mouth," said Bridgham. "We switched off doing mouth to mouth, then checked for pulse and breathing. She had a pulse but was not breathing, so we did not do compressions. Her jaw was completely locked, so I had to massage her jaw to open it and get breaths in. I eventually got a breath in and her eyes started flicking. she woke up. Brooke cleared the pool and called 911. Once emergency personnel arrived, they took over." 
Saving a life requires concentration, critical thinking and quick acting from everyone involved. Getting to know other guards and developing a close bond can help make the life saving process easier and more efficient.
"They're good people and they knew what to do, I was very happy to be able to do that with people who know what to do," said Bridgham.
Proper training is also crucial for all lifeguards to be able to respond to life or death situations like this one. Bridgham took a Red Cross lifeguard certification class before he was hired to ensure that he knew proper life saving techniques, such as CPR and protocol when an incident occurs. 
"Having other guards is very important," said Buczeck. "Making a save like this definitely requires a team effort."
The trio was honored by Red Cross for their efforts and each was presented with a Red Cross Lifesaving Award at a ceremony at the end of the summer. While the life saving process was nerve wracking as it was happening, Bridgham feels good knowing that he successfully saved a life when it mattered most. Buczeck felt the same, especially happy that her coworkers also got recognition. 
"I am so glad the amazing people I work with also got honored, they deserve it for the hard work they've done," said Buczeck.