Athens Drive High School is home to various animals
The learning experiences presented only to Athens Drive Magnet High School through its unique access to livestock and other animals provide many students with what they see as a one of a kind experience. Classes such as Agriscience and Animal sciences, taught by teacher Savannah Currens and assistant teacher Mary-Kate Morgan, explore the applications of agricultural education in today's world.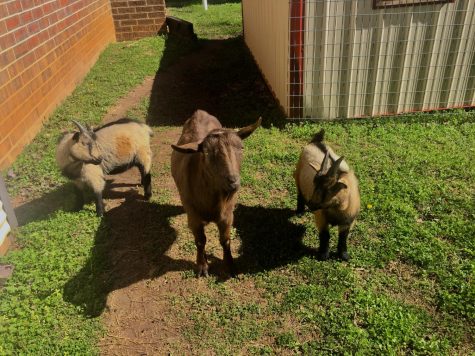 Athens Drive offers Agriscience Applications followed by courses Animal Science I and II, and finally Vet Assisting, which is new in 2019. The classes are structured to include education through classroom time, supervised agricultural experience (SAE), and FFA (formerly Future Farmers of America) involvement while teaching students about the agricultural industry, livestock, and companion animals. Additionally, these courses include working with live animals such as goats, chickens, reptiles, hamsters, and other small animals.
Students such as Joy Winton, junior, can discover the experiences offered through Athens' program in classes such as Animal Sciences one and two. 
"You have hands-on experience that you can't get from other schools and just with the fact that Athens is an urban school it's nice to see animals that you don't have to go to a farm to see," said Winton.
One example of these hands-on experiences described by Winton is the responsibilities assigned to Animal Science II students, such as feeding and watering the animals, changing bedding, and the occasional opportunity to administer medicine. The students' involvement helps develop interests into potential careers. For instance, Agriscience gives students information on potential careers such as horticulture, crop production, and agricultural machine operating. 
Additional experiences include being able to take one of the animals home during a long break for extra experience caring for small animals. This allows students to independently develop the skills necessary to advance their knowledge of raising animals.
"I took Pumpkin Spice Latte, the guinea pig, home and it contributed to my love and passion for animals and the courses," said Ariana Paulik. 
Paulik, sophomore, is a former student of Agriscience Applications and Animal Science I. Being able to have individual focused time with the animals has also helped students turn a passion into something pursuable in the future. 
The students have described the class as one where they get to do something fun every day. Winton gives an account of some of her favorite memories being when the goats first arrived at Athens Drive. 
"When we first got the goats, they loved to play on the playground and they would run up and down the slides and it was so funny to watch them play on the slides and jump off, it was like having little kids around," said Winton. 
Teachers and students alike see an increase in the importance of a class with an agricultural focus, especially in the near future. Topics such as conservation of natural resources are covered in Agriscience Applications and the concepts are built on in future classes.
Morgan said, "today in my Agriscience class, which im teaching this semster, we were talking about how by 2050 the world is going to approach 10 billion people, so what are we going to do as students who are interested in agriculture to make a difference, make sure we can sustain that population?"
Having a vet track with a more specific focus than other classes that may cover the subject in a broader manner has opened students' eyes to the prevalent and increasing need for a focus in agriculture in the real world situations such as consuming agricultural products, according to former students of the course. 
"Agriscience Applications especially really exposed and explained some of the blaring agricultural and ethical problems that are relevant in today's society so it allowed me to learn more about these subjects so I can make ethical decisions as a consumer," said Paulik.
The students of Athens participating in its vet track enjoy the unique experiences offered through its agriculture and animal-focused classes with hands-on experiences offered by the availability of real animals to advance learning opportunities.
"One thing that's really awesome about this class is the opportunity not just to learn, but to have a breath of fresh air and step away from academics but they are still learning whether they know it or not," said Morgan.