Athens Drive band students win positions in East Central District Honor Band
Honor Band is comprised of the best band students from each school in Wake County. These students try out to see if they can make the Honor Band for the East Central District Honor Band. Honor Band in NC is divided into seven districts. Wake County is in the East Central District.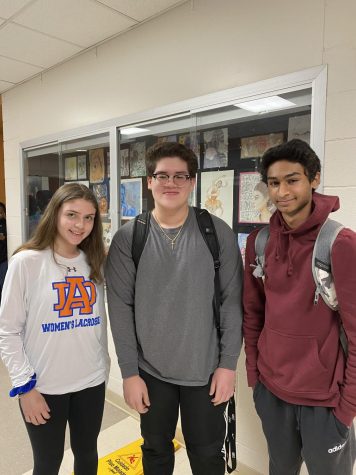 It is a special achievement to be accepted into this band program because it shows who is the best of the best. The students that are accepted into the Honor Band are given a medal that represents how hard they worked to get into this program.
"It's like baseball where you have the all star team and you have the best pitchers, and the best center fielders etc. but this is the all star band," said Jerome Markoch, band director at Athens Drive.
The auditions that were held for Honor Band were blind auditions. This means that the judges did not get to see who the students were during the audition process. This ensured that the auditions were completely fair and the judges could not be biased towards anyone.  
To get accepted into the Honor Band, each student had to know the music scale rudiments. They had to know at least eight key centers, and also had to prepare a musical composition. Finally, they had to do something called "sight reading". Sight reading is when the students had about 45 seconds to read a musical composition and then immediately play as much as they can after those 45 seconds. The audition consisted of all three of these things, which students had to perform extremely well to get into the Honor Band.   
The students that were accepted into Honor Band from Athens Drive High School are: Brennan Robbins, Ashwath Kapilavai, Dan Michaud, Cooper Sykes, Will Wakeford, Drew King, Thomas Thornton, Ana Altman, Ian Chang, Derek Geiger, and Wesley Major.  
"I'm not gonna lie, I was super ecstatic. I found out during class and was jumping up and down," said King, junior.
The East Central District Honor Band practices and final concert was held at Sanderson High School. The Honor Band members only had four rehearsals to prepare for this event, each only being three hours long. They used this time to perfect their musical pieces and then they performed in front of an audience.
The pieces played at the concert were: "Night on Fire" by John Mackey, "Shepherd's Hey" by Percy Grainger, and "Little Fugue" in G minor by Johann Sebastian Bach and "Russian Christmas Music" by Alfred Reed.  
Honor Band is something that many band players strive to be a part of because it is a big accomplishment. It proves to people that these students have a lot of talent and a passion for music.
"The whole audition and Honor Band clinic is a great experience, so it's something I wouldn't pass up," said Kapilavai.