WRAL Chooses Elna Benbow as Teacher of the Week
Every week, WRAL features one teacher who has been nominated by students and parents for their outstanding work. The week of Feb. 19, 2020,  Athens Drive's very own Elna Benbow, CTE teacher, was selected for this award.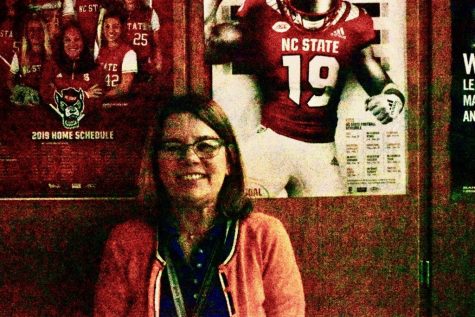 Benbow works in the Career and Technical Education department and teaches Drafting I, II, and III Engineering. She is also in charge of the Girls Engineering Club and the National Technical Honor Society (NTHS). She has been teaching at Athens Drive for six years.
"What drew me to this school was that they had availability in the STEM academy so that's why I'm here," said Benbow.
After pursuing a manufacturing degree at East Carolina University (ECU), Benbow decided to explore teaching and education. Since she had worked in engineering for many years, she wanted to help students decide whether they should go into the field. This enthusiasm for engineering and education is what led to her being nominated for teacher of the week.
"It's a little happy-sad I guess because you're happy and feel privileged that that happened to you but you also know that there's a lot of teachers that work just as hard that don't get recognized," said Benbow.
She is glad to have received teacher of the week but also feels that there are many other teachers who are just as deserving of this recognition. Benbow also appreciates that someone took the time to recommend her.
"She is very in-depth in how she teaches and lets you go at your own pace," said Eli Sorice, student.
According to Sorice, Benbow teaches her class in such a way that it creates a stress-free environment. Sorice and other students have enjoyed bringing their creations to life through 3D printing and using zSpace, a way of learning that utilizes augmented and virtual reality to immerse students in an interactive environment at school.
Benbow believes that getting to know each student individually and listening to them is very important and it is something all teachers should do. Getting to know each student allows teachers to deliver concepts in such a way where everyone has a complete understanding of what is being taught.
"Listen to [your] students. Get to know each student on a one-to-one basis as far as what their needs are, what their learning styles are, so when you're planning your classes you have a better idea which way a student learns," said Benbow.