Athens Drive Women's Tennis Defeats Green Hope
The Athens Drive women's tennis team hit the ground running as they began the 2019-2020 season  Aug. 19 against Millbrook High School, their first of 17 matches over the course of the season. The team is coached by Melissa Hunt, Biology and Earth Science teacher. This year's varsity team is comprised of 13 athletes, ranging from grades 9 to 12. 
"I'm excited for this season. I think this team has the potential to go far," said team member Olivia Cassidy, junior.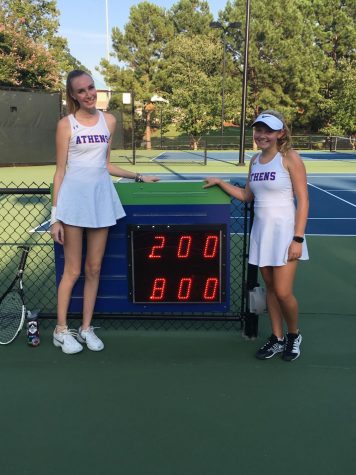 ADHS women's tennis began workouts during mid-summer to prepare themselves for the fall season. Practices began on August 1, and continue until early October. Throughout the season, athletes play in both singles and doubles matches. The regular season matches lead up to the post-season conference championship, where the top six players of each school compete.
"Workouts begin over the summer so that players can learn the rules to tennis if need be, and so that I can teach them new techniques. Also, I mostly decide on the ladder of players before the season starts, so it benefits them for me to know who they are and their talent level while making it," said Hunt.
One of the main goals of this group of athletes is for each player to improve over the course of the season. Practices are held Monday through Thursday, with optional challenge matches on Friday. These challenge matches are opportunities for players to move up on the ladder, an intersquad ranking that determines who each person plays in matches, where they can challenge someone above them for their spot. 
Athens Drive women's tennis doubles one defeated Green Hope doubles one in their match Sep. 11. This victory marks the first time that the jaguars have beaten Green Hope in a doubles match in over seven years. Cassidy and Jen Denton, senior, took down the two time defending NCHSAA team champion Green Hope team with a score of 8-2. 
One notable difference between this year's team and last years is the addition of a Junior Varsity team, which helps give underclassmen very valuable experience. This team was made possible because of the growing numbers of athletes that were interested in playing this season.
One of the contributing factors to the growth of this team is tennis icon Serena Williams. Williams has been an icon for the sport since she won her first major back in 1999 at the US Open. Three years later Williams won the Wimbledon Championship for the first time and has driven more young female athletes to pursue tennis over the past 20 years. 
"[Serena] has brought so much diversity and her accomplishments have inspired girls and grown the game," said Cassidy.
Another addition to the team is a brand new ball wall that was built this summer. The wall allows the athletes to hit by themselves, whenever there isn't a teammate available. The team also enjoys playing "Queen of the Court." This is a game where the loser of a match steps off the court and a challenger steps on to try and beat the winner. 
       "This season we're seeing a lot of improvement and able to compete better against other teams," said Cassidy.