Athens Drive hosts Food Truck Rodeo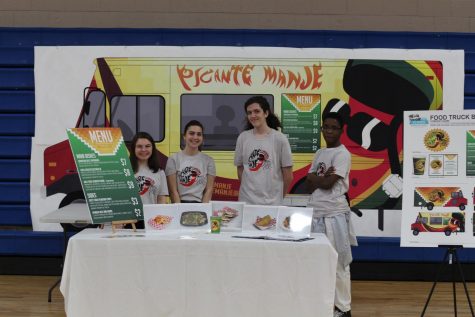 A food truck rodeo took place at Athens Drive in the upper gymnasium April 4, 2019. Durham food truck mobiles and association business employees attended the event to talk about their businesses and vote on student's truck designs. Picante Manje was the most voted food truck.
Culinary and graphic design students worked together to develop their own food truck business. They researched food trucks in the area for inspiration and agreed on a food theme for their business. Menus were then developed from the theme, with students conducting several taste tests to create samples for the event.
"It takes most small businesses years to craft their product and their image, and we tried to mimic the same type of trial and effort product development," said Edward Burt, culinary arts teacher.
Logos were designed and branded for their companies to place on their truck designs. Graphic students worked on screen printing their logos onto shirts and developing the menu design.
"Graphics and the importance of communication and branding are often not highlighted in the high school atmosphere. This event gave it a chance to really stand out and show what happens in the program and how essential the skills I teach are in the real world," said Elizabeth Luna, CTE (Career and Technical Education) department chair and graphics design teacher.
At the event, the truck designs were displayed at 6 ft by 15 ft, with students wearing their designed shirts and distributing samples from their menus. Guests were asked to vote for their favorite truck based on brand, food and personality.
"I enjoyed seeing the student's passion for their concepts. They really developed a sense of ownership in their concepts and put a tremendous amount of passion into their work," said Burt.
The winning food truck was composed of Evan Biesaga, Taydon King-Kiss, Abby Pikett and Kristina Rozakis from the graphic design classroom. From the culinary classroom, A'lyiha Beard, Jazzlyn Glenn, Jayden Hughes and Mia Orndorff won. As their reward, they were given a Bojangles Breakfast party.
The event was paid for by a 4C grant obtained from Wake County. The grant was given with the purpose of creating a program to enhance the graphics and culinary curriculums. Only a few grants are given annually, with Athens receiving the maximum amount of $10,000.
The grant was also used to buy a variety of equipment for the culinary classrooms, such as a panini press, food slicer and two food warmers. It also provided printing things for the graphic design classrooms, such as papers and vinyls for large prints and decals.
"On the final day — I enjoyed seeing students show off their abilities, talk about their successes and failures and discuss their work at a high level. They were able to create work that is typically seen in college level design classes and it was refreshing to watch them stand out and show themselves off," said Luna.