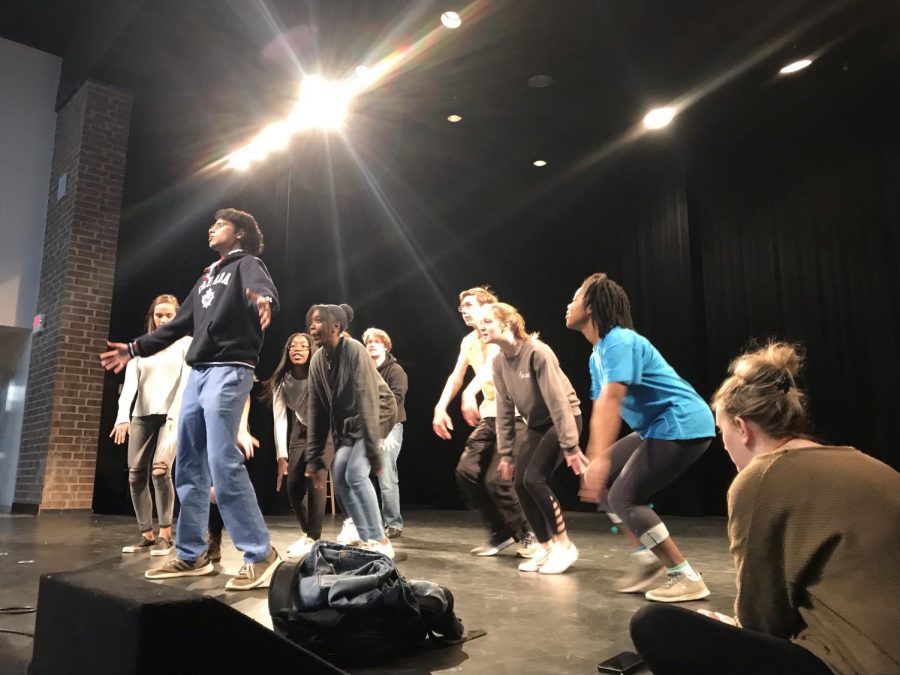 Jordan Walker, freshmen & Grace Rutheny, freshmen
Acting, dancing and the sounds of music must mean it is time for the spring musical. The Athens Drive Theatre and Choral Departments are producing All Shook Up, a jukebox musical inspired by the songs of Elvis Presley.
According to Theatrical Rights Worldwide, the show takes place over the course of a day in the 1950s. Lights are up in a small you-never-heard-of-it town somewhere in the midwest. Natalie Haller, a female mechanic, dreams of meeting a man and traveling the world on her motorbike. Unfortunately, Mayor Matilda Hyde has recently implemented the Mamie Eisenhower Decency Act. This outlaw's loud music, tight pants, and public necking. Little do they know the whole town will be turned upside down by Chad, a rovin' roustabout.
"The set of this show is very different from last years. Last year's show was set in the early 2000s and with this, we are traveling back to the 1950s. We tackle issues like segregation and sexism. The set of the show is in a 50s diner, a fairgrounds and around a very 50s midwestern town." said Chloe Beal, stage manager, senior.
Even though the audience typically focuses on the set, music, and actors there is a lot of work behind the scenes that make Athens Drive productions successful. Whether the cast is learning music and choreography or the crew is testing lighting and sound, lots of students are working towards another Athens Drive production.
"From a crew standpoint[,] we have to build the set, find and organize all the props, organize the prop shop so that it is ]a usable space, design and execute the lighting and sound effects and create a positive environment for everyone to work on. The biggest week for [the]crew is tech week when we start to run the show with lights and sounds and the full set," Beal said.
The cast prepares for the show with rehearsals after school from 2:30 p.m. to 4:30 p.m. at least four days a week. They continue at this rate to prepare for their dress rehearsal and performances.
"It takes a lot of hard work to produce a musical! Each group is equally important and everyone within those groups is important too; crew, directors, cast, and pit. Everyone has to be giving it 110% to make the musical the best it can be! Which means sweaty boi hours in rehearsal and set building thingies," said Anna Vtipil, cast, junior.
Director, Ashlynn Hayes and Music Director, Michael Santangelo also play a large role producing shows at Athens. As a music director Santangelo teaches students their parts for songs, while Hayes provides guidance to the cast to improve their performance.
"Ha! It might be easier to say what I don't do when it comes to producing the musical. The most important thing that I do is provide a safe opportunity for high school students to explore theatre arts in a place that respects hard work over ability. As a director/producer, I am in charge of the following:Securing the rights to the musical, Casting (with heavy input from Mr. Santangelo and our choreographer, Ms. Chasta Hamilton), Working with students on their movement (blocking), the overall 'concept' of the show (what the show should look like) and So much more…." said Hayes.
Presley may be the inspiration for "All Shook Up", but the students and teachers passion is what brings each musical to life.
"I enjoy the theatre department because of all the fantastic people and family environment created. Every rehearsal is a blast. I think people should come [to]see the show because it's going to be one of the best shows Athens Drive Theatre has put on. All the students are working insanely hard and the show is going to turn out amazing," said Beal.
"I enjoy the chorus and theatre program at Athens Drive because I love music a whole bunch and those programs allow me to express my passion for music and drama! Students should come see the show to support fellow students who have been working non-stop for a couple of months! Everyone has something they're passionate about and I think the Athens community could grow a lot with students supporting each other in their endeavors," said Vtipil.
Athens Drive Theatre and Chorus allows students to perform in a family environment as Beal and Vtipil stated. It offers a way for students performing and students watching to experience something new.
"There is a certain magic in watching the raw and sometimes unrefined acting skills of teenagers. Their love of theatre always inspires me and drives my theatrical passion. My 'kids' are among the most hardworking students at Athens Drive and they put so much of themselves into each and every production. Our program is made up of many students from many backgrounds that all come together with one common goal: to produce high-quality high school theatre. We are more than an ensemble, we are a family."
"Ultimately, students should come out to support the 60+ students that are involved in the production. All Shook Up is a fun and upbeat show that is unlike anything we have ever produced at Athens Drive. It is a story about love, heartbreak, and finding oneself. The underlying message in the show still rings true: it only takes one person to 'shake up' the world." said Hayes.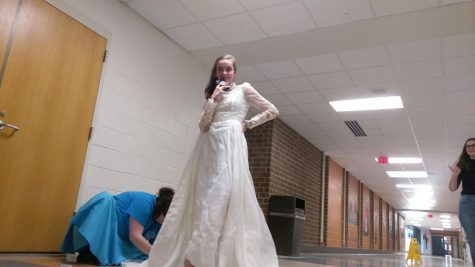 All Shook Up premieres on March 6 – 9 in the Athens Drive Auditorium at 7 pm. Many students "Can't Help Falling In Love" with the show.