Athens Drive band students win positions in Central District Honor Band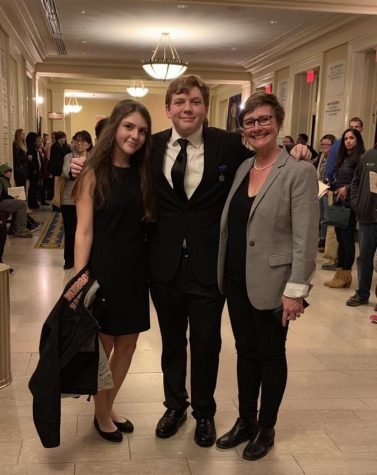 A number of students from the Athens Drive Band program won positions in the Central District Honor Band. The district includes a major area of North Carolina from Greensboro through Raleigh-Durham. The scores of the Athens Drive students who won positions in the band were high, and seven of the 13 students who got into the Central District band are also eligible to try out for the All-State Band.
"The experience, playing and rehearsing with other people throughout the district, knowing you made it and performing in a beautiful hall is a really cool experience," said Ana Altman, sophomore trumpet player.
North Carolina is split into six different music districts in which middle and high school band students can audition for the honor band of their district. The Central District is the largest, making it the most competitive for students in the area. Each district has several honor bands that students can try out for.
Band students who wish to try out start preparing months in advance. The audition requires the players to prepare a solo piece, as well as certain rudiments, like scales or arpeggios. All of these exercises help demonstrate the player's technique. In addition to these, students must also sight read a piece at the audition. This requires the student to read and play a piece they have never seen before.
"You can not really prepare for [sight reading] much other than to be involved in our band program and be reading music every day, which we do," said Jerome Markoch, band director at Athens Drive.
About 30 to 40 students from Athens try out for the Central District Honor Band each year and this year 13 students won spots. Students Brian Suh, Gavin Foley, Ana Altman, Brennan Robbins, Wes Major and Ben Wakeford won either first or second chair positions. They are also eligible to try out for the All-State band in March.
    "Honor band is the best of the best. This group, everybody is good. Everybody. That is the exciting thing. The other thing is…you are playing with someone who you do not normally play music with, which is exciting," said Markoch.
    The 2019 Central District Honor Band concert was held at Chapel Hill. After the auditionees found out if they made the band or not, the students who won positions prepared on their own and later met at the end of January to rehearse and perform with the entire Honor Band under a guest conductor.
"One major different thing is people's perspective. It is easily noticeable how people perceive music in other schools and places differently, and [it is] fun to try that perspective out. People there care about music a little bit more…and see it as a deeper meaning than most," said Altman.
Honor band is a chance for passionate band students to continue their practicing and performance after the marching band season. Markoch encourages any student that is fairly serious in their pursuit of music and the development of their talent to try out for the Central District Honor Band.
"High school is home. There is a comfort in that. It is good to move beyond your comfort zone and do something that you love with people that share that same common passion but it is all a new experience. Often it sticks more," said Markoch.