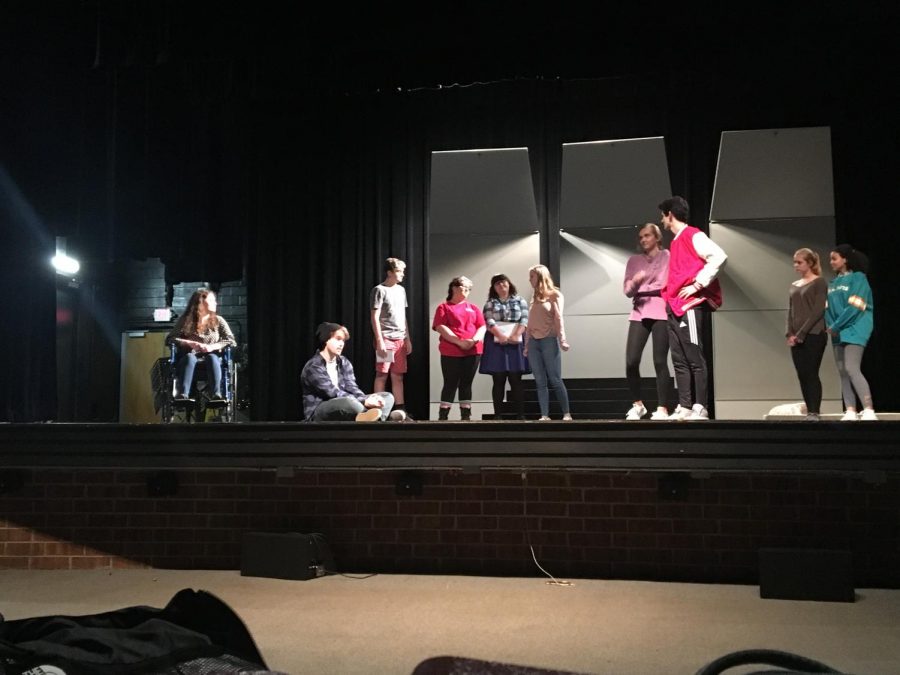 Every fall, the Athens Drive theater department performs a play to showcase the theatrical talents of the students here at Athens Drive. This year, the theater department will be performing Football Romeo and everyone involved in this production is exceptionally excited to perform this play.
In Football Romeo, Danny Dinning, a full on drama geek is cast to play Romeo in Verona High School's production of Romeo and Juliet over the popular pretty boy linebacker Rick Settler. Nicola, the self proclaimed 'star' of the school believed that her linebacker boyfriend would be the Romeo to her Juliet and she demands a recast of the show. Danny not only conquers his insecurities about being a passionate performer but he also fights for the chance to prove that talent out rules good looks. This show is said to be a hilariously modern take on clashing between social cliques that shows that life is not always what it seems.
"People should come see this show because it's an adorable comedy filled with such a talented and wonderful cast and it'll bring a smile to anyone who comes to see it, said Isabel Kaczmarek, senior, "I've always loved the Shakespeare story-lines and conflicts and I'm excited to be a part of this spin on Shakespeare's Romeo and Juliet." Kaczmarek was given the role of assistant director under the director and theater teacher, Mrs. Ashlynn Hayes. Putting this production together has been a fun experience for the directors as well as the actors and crew. That however does not mean that taking on this production did not challenge and shape the cast.
"The character I'm playing right now is supposed to be like the stereotypical football player. You know, he is supposed to be mean and a bully. A previous role that I had was understudy for Prince Christopher in the musical Cinderella. For that role, I had to be kind, sweet and caring. So these two roles are complete opposites. It was a real challenge having to completely switch between those roles, from [being] kind to mean," said Iain Ladner, senior. Despite the various individual challenges faced by cast and crew alike, the theater department pulled together and put on a wonderful production.
"Every production has its own unique set of challenges. For this show, we had a tough production calendar to work around, but we found ways of adjusting," said Hayes. She goes on to brag about the dedicated students who are passionate about theater and states that they are the easiest and best thing about putting the play together.
"They make my day brighter," said Hayes. It is the spirit of the cast, crew and stage management that makes the play so great, not only the talent of the students on stage. Both the cast and the crew were very excited to drive into this play and Shakespeare.
"I love Shakespeare! I did Romeo and Juliet over the summer a few years ago," said Colin Freund, junior. It is the interest in Shakespeare that contributes to the performance since the play based off of a famous work by Shakespeare himself, along with the combined interest and dedication of the cast and crew that makes this year's production a must-see.
" People should come and see Football Romeo because it's funny and relatable. People get to see Shakespeare in a different light," said Iain Ladner, senior.