Cinderella Project offers prom attire to Wake County students for free
With prom right around the corner, many students are looking for the perfect dress, shoes or tuxedo to wear. These items can be very expensive for some families, but the Cinderella Project is a great solution for anyone struggling to afford prom attire.
The Cinderella Project was started by Middle Creek High School students four years ago and has spread to 15 other Wake County High Schools since then, Athens being one of them. This project collects gently used formal attire and offers it to students who cannot afford it.
"Prom is just something that you should experience, and it should not be just for the people who can afford expensive attire. Experiences shouldn't be that way, not in high school," said Christopher Remaley, student council advisor.
All 29 high schools in Wake County meet once a month to discuss relevant topics and during one meeting, the idea was proposed to make the Cinderella Project countywide instead of just at Middle Creek, where the project was originally started.
"The idea was, let's get all the high schools on board and have everybody do it so that's what we did this year. It was very successful," said Remaley.
Student council wanted to offer this to Athens students in an attempt of attracting those to prom who would otherwise not go because of lack of formal attire. Student council members suggested the idea that Athens join in on this project because they "knew we had a need here for a project like this to help students," said Emily Williams, senior.
"We recognize that some students do not have the ability to spend a lot of money buying a new prom dress so we [student council] thought of the idea to hold an event for people to bring used prom dresses so Athens girls can use them for the night. We can do the same thing next year and so on," said Robyn Allaway, sophomore class treasurer.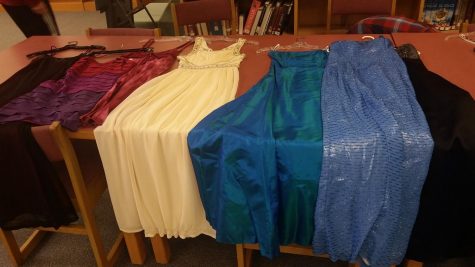 Prom can be one of the most expensive events for a student in high school. Between hair, makeup, outfits, tickets and rides, teenagers are spending an average of more than 600 dollars. The Cinderella Project helps eliminate one of the biggest costs of prom season and students are grateful for this option that allows them not to miss out on their prom night.
"This is a good idea because people who aren't in good financial situations can't afford to go to prom. Getting a prom dress for free is the best thing. Everyone should experience this," said Ashley Hamrick, senior, who picked up a dress from Athens Drive, provided by the Cinderella Project.
600 gowns were donated and offered by Athens and about 45 people came through on the distribution day to pick up a dress, suit or shoes. The Cinderella Project makes prom an event to look forward to for those who did not see it as an option before this project started.
"Prom is something that every student should experience and you shouldn't let the cost of a gown or tuxedo stop you from going," said Remaley.