Student-led national school walkouts grab attention of the nation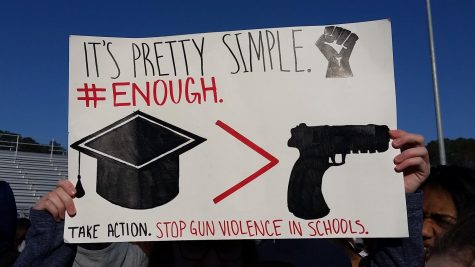 Over a month has passed since the violent school shooting that occurred Feb. 14 at Marjory Stoneman Douglas High School in Parkland, FL. Throughout the days since, students all across the United States have organized school walkouts. The walkouts are to protest gun violence in American schools and to create a change of gun laws in the U.S.
The National School Walkout took place March 14 at 10 a.m. and lasted 17 minutes, in order to honor the 17 students and faculty who lost their lives to the shooting at Stoneman Douglas. Thousands of students all across the United States stood up and walked out of their classrooms to exercise their right to protest this issue and to memorialize those who were lost in February.
"I feel like it is about time. Guns have gone too far," said Natalie Ndiforamang, freshman. "I will be walking out."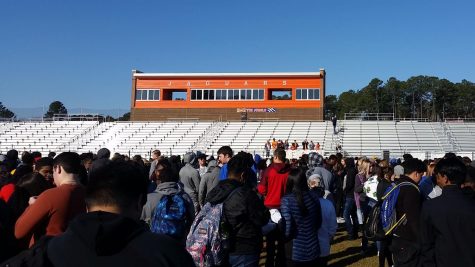 The walkouts are more than just a memorial, though. Participants are demanding change from Congress, some of those being a ban on assault weapons and requirements of universal background checks before gun sales. They also want Congress to pass a gun violence restraining order law to allow courts to disarm people who display warning signs of violent behavior.
Their voices have not gone unheard. Florida's governor, Rick Scott, signed a bill that raised the minimum age to purchase a firearm to 21 and also extended the waiting period of receiving the firearm to three days. Even though smaller changes to gun control have occurred, reforms on the national level have taken less of an impact. President Trump abandoned gun control proposals, ones that the Republican-led Congress hardly supported.
"Students have an important voice in the world. I love that the students are caring and want to come together to share a message," said Stephen Mares, principal at Athens Drive.
Athens Drive High School coordinated its own personal walkout for March 23 at 9:15 a.m. to protest the current issue of gun violence and to send a message that students "will not tolerate any more inaction," said Indivisible.org, a campaign that helps students find a walkout for their school.
Students who chose to walk out in all Wake County schools will not be disciplined, but other schools in the U.S. implemented consequences to those who walked out March 14. Schools in New York, South Carolina, Pennsylvania and Georgia gave suspensions or detentions to the students who protested. These threats of punishment deterred some students from walking out, but not all of them.
Students feel as if they are being punished unfairly but legal resources, like the American Civil Liberties Union (ACLU), say that as long as the consequences for walking out do not exceed typical infractions for cutting class, schools can discipline students. For students whose punishment is reasonable and allowed within their school districts, there is nothing legally they can do about the situation.
When asked about Athens involvement in the walkouts, Mares said, "Our purpose is not only to teach students, but to help them become responsible people."
Walkouts took place in other schools all over Wake County including Apex Friendship, Panther Creek, Apex and Green Hope High School.
While some students read the names of the victims from February's shooting, others stood in silence and even more chanted and marched with signs. No matter how loud, silent or active the protest was though, the students' message was clear: Enough.