Students celebrate the end of first semester with senior breakfast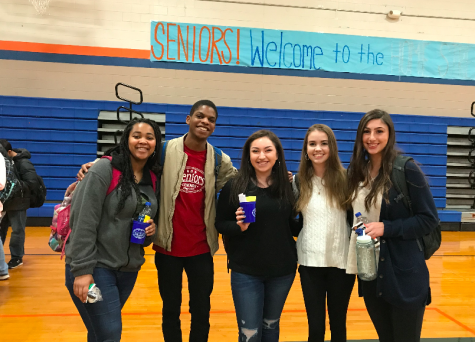 The class of 2018 celebrated the beginning of second semester with the senior breakfast Thursday, January 25. Students were welcomed into the gym and greeted by parent volunteers who helped organize the whole event.
Upon entering the gym, seniors were met with two long tables filled with various breakfast items. These items consisted of food from Bojangles', Chick-fil-a, Hardee's and Brueggers Bagels. There were chicken biscuits, chicken minis, more biscuits, bagels, muffins, bananas, apples and grapes. After going through the lines students ate their food on the bleachers.
"I would like to get held back just to have this breakfast again," said Koreena McDonald, senior.
Along with food there was a variety of prizes. Many of the prizes were gift cards to places such as REI, Crossroads Cinema, Subway, Bojangles, Red Hat Amphitheater, Olive Garden, Ruby Tuesday's and Insomnia Cookies. Gift baskets were also given out with a variety of items in them for boys and girls. A television was also gifted out to a random student to hopefully take with them to college or use it however they desired. This senior in particular was Charles Blanchard.
Parents planned the event earlier on in the year and put much effort into planning and buying the gifts, food and supplies needed to make the event possible. It took much planning and students were very appreciative of the thoughtfulness of the parents. The senior breakfast would not have been possible without the help and willingness of the senior class parents which made this halfway point in the year extra special.
"It is really cool how much the parents did for us. I am really going to miss Athens," said Nestor Flores, senior.