Homecoming game score results did not keep the jaguar spirit down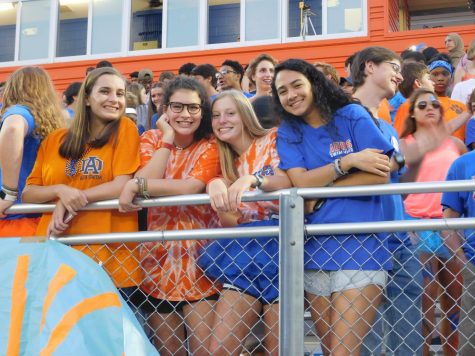 The energy was high at the Athens Homecoming game this year. The football team played against Jordan high school the night of Oct. 6 at the jaguar stadium. The players put their best effort forward throughout the game, but finished with a score of 32-7. The student section was packed with spirit and excitement to support the football team.
The Spirit week festivities brought students and staff together to guide the team with liveliness into the game at the end of the week. The theme of board games and slogan "Athens got Game" built up anticipation for the big game.
"I'm really proud of the school, our crowd was wonderful, the homecoming week really led up to a pretty good crowd that night, you know, the game didn't turn out so well but our fanbase is getting wilder every game, ADN for life," said Robert Ruffin Jr., senior Varsity football player.
Students cheered and chanted at the team the entire game. The Varsity cheerleaders kept a positive vibe for the school. The jags were down on the scoreboard, and the students were getting nervous about the outcome of the game.
"We the cheerleaders pumped the spirit up and kept the crowd going," said Diamond Greene, senior. "We didn't stop cheering because we were down, we supported our jags til' the end."
Students of all grades were crowded together in the stands to root for the jags. They returned the joy and excitement of both the cheerleaders and the players on the field.
"Aside from actually losing the game itself, the electricity in the crowd was buzzing and everyone was super hype," said Vishal Kasula, junior.
Football coaches oversaw the entire game from the sidelines and helped push the team to their highest potential. This gives them a unique perspective of the games.
"I think the festivities went over well," said Coach Pugh. "I was a little disappointed in the outcome at the end of the game, but the student section was loud and fun, and the team responded well after the first few minutes."
Overall, the football team took a loss at the homecoming game but still maintained a great attitude of sportsmanship and positivity. Additionally,  students claimed had an exceptional time cheering on the team.
"It was one of those times where every single Athens kid could bond over a similar thing," said Kasula. "We had  the marching band, the cheerleaders, the fans, the players, everyone, and on top of that the student section is definitely one of the craziest places I've been, a good crazy, Go jags."