Auditioning for a play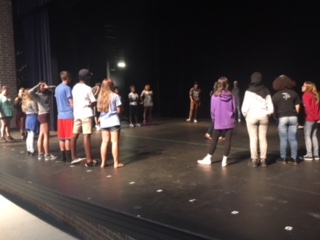 The first theatre production of the school year is the fall play. Auditions for this took place on September 13-15 after school. Many students desire to audition, but because of after school sports or other activities they are not sure if they are able to do so. Additionally, some are afraid that they do not have enough experience.
"For the fall play we try to be a little bit more flexible with the actors and actresses," said Ashlynn Hayes, theatre teacher.
Hayes says play auditions "are very casual." Students must fill out a form on the call board, which is located outside of the chorus room in the band and cafeteria hallway. It must be signed by a parent prior to the audition or else they will be unable to take part. On the day of auditions, students will turn the form in and have a one to two minute monologue prepared with a brief idea as to what the show is about.  They will learn blocking, from the director, and learn lines and how to perform while doing so. Blocking is where a character goes on stage throughout a play.
"It is one hundred percent okay to audition with little to no experience because we welcome new people into the family every year and you will improve the most through the experience," said Jenna Denton, sophomore. "Often times people have a natural ability in theatre."
Being confident shows off the actor's personality and talent. Students should look for tips on trying out for plays and different ways to present your monologue on the internet as well as from those around them that have prior experience. It is very helpful when auditioning for the first time.
"Don't be nervous," said Hayes. "It's really usually just me and sometimes the chorus teacher, sometimes another teacher but, generally there's only one to two adults with you, you audition on your own, and it's a really laid back thing."
If a student has little to no experience with acting, the fall play is a great way to begin their acting career. The actor needs to be prepared, the director is able to tell when the actor or actress is prepared or not. As soon as the person auditioning walks in the door, the director can tell if they do or do not have these components within their audition. If the student is prepared they will not be as worried and will be able to impress the directors.
"Balancing time between theatre and sports can be pretty tough," said Denton. "But, if you you manage your time well and make sure your coaches understand the situation it is usually okay."
Students can work their schedule out with the director and coach if sports or other after school activities overlap. However, missing more than three rehearsals may cause the participant to be cut from the show. Some coaches will be more lenient with the situation a student might be in, but it all depends on what the sport is and where the student stands as an athlete. At this point they may be good at both acting and at the sport, but still may be put into a position where they will have to choose which one they would rather take part in. Participating in both means the student needs to know what they are going to be doing along with both the director and coach knowing what is going on.
"You can do it," said Hayes. "Just make sure you know what you're getting yourself into."