Athens Drive Magnet High School Women's tennis team looks to improve during the 2017 season
The Athens Drive Magnet High School women's tennis team is looking to build off of their 5-10 2016 season after bringing on a new coach. Melissa Hunt, a science teacher at Athens, has taken over the reigns of head coach.
Although this is Hunt's first year of being head coach at Athens, she is a long time player and viewer of  tennis and enjoys playing as well as coaching.
"I coach tennis because of the athletes. The young ladies that play on my team are my inspiration. The sport has always been one of my favorites to watch and play because it allows athletes to stand out both as individuals and as a team," said Hunt. "My favorite part of coaching has to be spending time with my players on and off the court. Getting to know them and having the privilege of being a part of their lives is precious to me."
While the team has started out 0-7, tennis is traditionally an individual sport and the record does not always reflect the skill of the team as a whole.  Even then, Hunt has already noticed improvement from her players this season.
"I can say that there has definitely been improvement over the season. I do not believe our record reflects our overall skill level. Unfortunately we play in a tough conference and the record does not show how close many of the games in our matches have been," said Hunt.
Both singles (one vs. one) and doubles (two vs. two) contribute to the overall score. However, the overall score does not show how many games a player won throughout the match. Singles matches consist of two "sets" of six games while doubles consist of eight games.  
The players have also seen improvement in their own performance- and credit Hunt for that improvement.
"Coach Hunt is great. She's always supportive and knows how to help us and what we should focus on at practice after a match. She never makes you feel unwanted or bad about your playing but is always there to give you a thoughtful tip," said Abigail Pikett, freshman and member of the tennis team.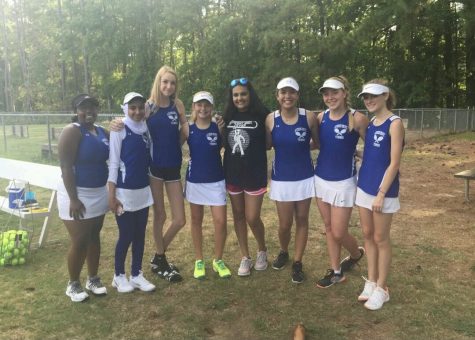 While winning is the overall goal of any sports team, all Hunt asks from her players is for them to put forth the effort to improve.
"I ask my players to give 100% for every serve, point, game and match. We play one point at a time and let past mistakes stay where they belong– in the past," said Hunt.
The members of the team enjoy the comradery and feel that winning is not  the most important thing– it is just an added bonus.
"Tennis is something I'm passionate about and I love hanging out with all my kind, supportive team mates. Tennis is radical and I dig the sport. It fills my heart with joy when I get to see my team win and have fun," said Pikett.
Members of the team vary in skill level and there are no requirements to join the team except a racquet and a desire to learn.
"You do not have to be USTA (United States Tennis Association) ranked to play on the Athens tennis team. I would encourage anyone interested to get a racket, practice on their own and come out next summer for the tennis team," said Hunt.