History teacher, Connor Bayer, brings his rapping skills into the classroom
Hang on for a minute...we're trying to find some more stories you might like.
Connor Bayer, History teacher, became known throughout the school for using his literary skills in order to create a new aspect to his classes. Bayer began rapping for students during the 2016-2017 school year. During second semester of this year,which brought a new dynamic to Athens Drive High School. Bayer began to make unique raps to fit into the content of each unit before tests in each of his classes.
Bayer's rap career initially began in eighth grade when he wrote and recorded his first song. In his sophomore year of high school, Bayer received a thousand plays on MySpace.
In classes like English and History, Bayer thrived in his writing abilities in assignments such as essays and creative poetry as his passion for music grew.
"A combination of liking music and learning the grammatical aspects of writing and blending them together motivated me," said Bayer.
Bayer and his brother now record and work on music together in their own group called "Live Easy," which can be followed on instagram, twitter and is available on soundcloud. Their group has a total of 27 songs that are available for download.. They have multiple clean albums and music videos released. Bayer's students have enjoyed songs and videos that he showed them.
"It was very education friendly so we learned a lot in his class while having a lot of fun and I feel like  he inspired students to use art in educational ways," said Maryann Aden, junior.
Bayer plans to put all of his different unit raps online for future and present students to use at their own convenience. Many students seem to benefit academically from Bayer's raps for each unit in history class.
"When I took my test I was replaying the rap in my head and got a lot of the answers right… he's probably one of the best teachers I've ever had," said Cate Whitely, junior.
While teachers are all share the same profession, certain aspects do set them apart. For teachers who want to spice up the classroom, Bayer offered some advice.
"If you have a hobby that you enjoy doing and you can incorporate into the class and blend that into the day to day teaching aspect, I think it would definitely liven up the classroom," said Bayer.
Bayer is able to professionally record at a studio through a neighbor he met when he first moved to Raleigh in 2015. After the first annual literacy showcase where Bayer was a featured guest and showed off his rap skills to the audience, many students and staff were eager to ask Bayer one question; why he did not choose rap music as his career path?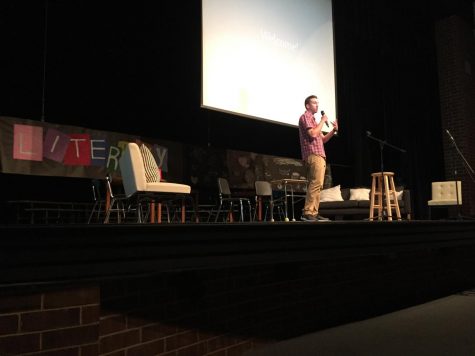 "I do enjoy teaching and I'm keeping the door open," Bayer said.