Abigail Bennett announced as Athens Drive 2017 salutatorian
Hang on for a minute...we're trying to find some more stories you might like.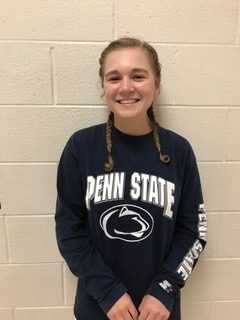 Abigail Bennett has been announced as the Athens Drive salutatorian for the class of 2017.  She currently has a weighted Grade Point Average (GPA) of 5.17 and has taken 12 AP courses throughout her years in school. She has also been able to maintain all A's every semester of high school.
"Abigail is an incredible person who brings constant positivity everywhere she goes.  She is hilarious and is always there whenever you need her," said Ava Wallace, senior and student body president.
Bennett surpasses most students in the classroom and also participates in many extracurricular activities.  In her senior year alone, Bennett has been an executive board member for student government, a member of the National Honors Society, participated in Fellowship of Christian Athletes (FCA) and also played softball in and outside of school.
Currently, Bennett has a job working as a cashier at Chick-fil-A where she has gained much work experience for the past two years.  From this she has learned skills that she never thought that she would ever possess such as patience, self-control, and discipline.
"Abigail always works hard and stays focused on school. Sometimes she stresses herself out but life is always rocky when you are a gem.  She is also very dedicated friend that brings out the good in people," said Callie Howard, senior.
In order to achieve success, Bennett has a very unique way of how she goes about handling both her school and social life.
"Get a good playlist for studying and doing homework and don't put hype songs on it.  Put mellow songs like ones by James Taylor, Elton John, and the Beach Boys, which help you concentrate way better," said Bennett, senior.
Bennett plans on attending Auburn University and major in communication sciences and disorders for the 2017-2018 school year. Her current goal is to become a speech therapist.
"In my four years at Athens, I have met some of my best friends and it definitely will not be the same not seeing them every day next year. High school has been one heck of an experience, and I will remember it for the rest of my life," said Bennett, senior.