Beloved teacher Jim Bahm set to retire after this semester
Hang on for a minute...we're trying to find some more stories you might like.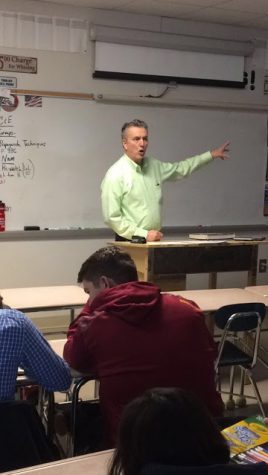 Jim Bahm started teaching in the late 1980's and out of the 32 years kiteaching, Bahm has been at Athens Drive since 1991. Bahm has taught at many places, spending three years in New Jersey, two and a half years at Smithfield-Selma High school, one semester at South Johnston and the rest of his time teaching at Athens. Bahm has been through a lot over the course of his career, from coaching an undefeated baseball team, to having two sons in the middle of the school year.
"If I didn't like the kids, I wouldn't have done it for 32 years," said Bahm when talking about his favorite part of his profession. "You have to win their trust."
Bahms' biggest pet peeve that has happened over the years is when students talk over him.
"I hate it when students talk over somebody else or make fun of somebody's opinion," said Bahm.
Being a Civics and Economics teacher, students are going to have different opinions on topics, and it is Bahm's job to keep the peace and keep the discussions about controversial topics to a civilized manner. Bahm has always been an advocate for hard work and a classic teaching style. The new age is bringing in lots of new technology and devices, which Bahm believes take too much time to learn when we could use that time learning new material.
"I taught math for a year, didn't really find a fit. I feel like we should put less emphasis on learning technologically and more on subject matter, we have been so caught up about learning how to use new things and devices that we have forgotten to learn what really matters," said Bahm.
Bahm has no regrets about becoming a teacher and advocates for it.
"Felt like a good choice coming in. Lots of great friends, great people, and great memories made," said Bahm.
Some of the memories Bahm has have changed his life. "I had a kid on my baseball team one time who lost his leg in a car accident, later on a few years later he sent me a long text telling me how much I meant to him, as a teacher and as a coach. He died weeks later from a form of cancer," Bahm said emotionally.
It was a touching moment in Bahm's life, and his time in sports has added meaningful memories as well. Bahm coached a baseball team of 15 kids that went undefeated, 17-0, at Smithfield- Selma High School. "It was the last game of the year, at Cary and the sprinklers were on, we had a delay because we were under a feet of water. We beat them 18-0 and I got drenched in a gatorade shower by the team. It was a wonderful moment in my life."
One of his memories from the late 90's, Bahm was teaching for a little bit at a private school. He wasn't making much money and was tight on finances. He told the principal that he was uncertain about returning to the school because of money. Later on in the day the principal walked into his room during his planning period with a stack of money. He was giving Bahm a thousand dollars in cash and told him that he was very appreciated and that the administration wanted him to stay at the school, and that's exactly what he did. 
"They made me feel wanted, so I took the offer and stayed for another year," said Bahm.
Bahm has a past time of writing, including a book about the Lindbergh Kidnapping that he says was inspired by his father. Bahm plans to possibly write another book or two after retirement, as well as do activities outside.
"I want to do stuff outside, with my family possibly, like build a garden and get in shape overall," said Bahm.
Bahm has loved his time as a teacher and is happy knowing that he can live the rest of his life with no regrets and knowing he has accomplished a ton during his time as a beloved teacher.