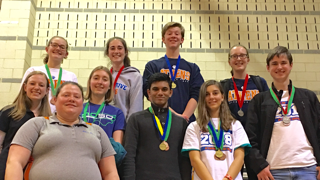 The Athens Drive Science Olympiad team competed at the Raleigh Regional Tournament  Saturday, March 11. There were 31 teams competing at this event. Athens Drive students won medals in 10 events: Amazing Mechatronics, Anatomy and Physiology, Bottle Rocket, Disease Detectives, Ecology, Invasive Species, Materials Science, Microbe Mission, Rocks and Minerals and Write It, Do It.
Two of those medals were first place, won by Junayed Khan, junior and Fariha Rahman, senior, in Anatomy and Physiology and by Lily Ivanov, junior, and Cooper Sykes, freshman, in Rocks and Minerals.  
"I'm very proud of all our team members, including our first place winners. They worked very hard to learn the information necessary for their events, and it paid off. I'm very excited to have more students eligible to go to the state tournament this year," said Heather Hafer, Science Olympiad Coach.
There are numerous Science Olympiad tournaments around the state of North Carolina, but only 15 at the high school level. The tournaments are on Saturdays starting in February and run through March, with the locations varying to accommodate for all the different teams. In a tournament, students compete individually or in pairs in different events to score points for their team, with the amount of points given depending on the event. Some events require students to build something at the competition while others are knowledge based and require students to study a test. Another type of event requires lab knowledge, requiring students to perform lab tests to identify substances or make measurements.
"I wasn't shocked at their success because our team won first place in one of those events last year; however, there is some steep competition, so there are no guarantees. When you're competing against 30 other high school teams, it's not uncommon for the scores to be only fractions of a point apart. So it was exciting to find out that they did win again," said Hafer.
The students boosted their medal count significantly from last year, winning ten medals in comparison to last year's four.
"I would like to tell students that Science Olympiad is a lot of fun, and we welcome all students who have an interest in science. You don't have to be taking AP science classes to participate – there is room for everyone! We would love to have enough students to make more than one team next year," said Hafer.