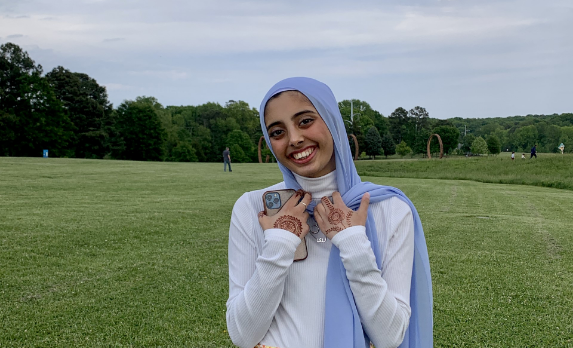 Photos by Arwa Sattar
Senior Spotlight: Arwa Sattar
A lot of seniors are going through the same thing right now, and figuring out exactly what it is that you want to do after your high school career ends can be difficult. Going into jobs, careers and college is a time of excitement, and it's a part of life everyone has to be ready to experience.
Arwa Sattar, senior, is wrapping up her journey here at Athens Drive High School, and is headed towards a bright future.
"My plans after high school are to attend the University of North Carolina at Chapel Hill for biomedical engineering," said Sattar.
Sattar aspires to pursue a career in the biomedical engineering field after college, going into the BME (biomedical engineer) program at UNC Chapel Hill.
"Arwa Sattar is such a force of intellectualism and compassion. She is on the verge of changing the world" Said Athens teacher Mrs. Surles. Mrs. Surles Is the one who nominated Sattar as an outstanding senior. 
"A fun fact about me is that my name means mountain goat. One odd talent I have is that I am pretty good at the game Tetris," said Sattar.
After four years of high school, every student is bound to have some problems they have to overcome, whether it be academic adversities or social.
"At Athens, one of my biggest obstacles was putting my health above my grades. I overcome this obstacle by allowing myself to realize the importance of self care and taking time out of each day to do things for myself," said Sattar. 
Sattar believes that health and self care is an extremely important part of life, so much so that even academics can wait.
"My hobbies include reading, baking, and volunteering," said Sattar.
Every senior that has made it through highschool successfully has learned something about themselves to make school more accomplishable. 
"A life hack I have to be successful is to lower your expectations and be realistic," said Sattar. 
Sattar believes being realistic is key, as it allows someone to prepare for what is most likely actually ahead, rather than what they would hope is ahead.
"One of my favorite memories at Athens was doing karaoke for a club," said Sattar.
Overall, Sattar has good memories at Athens Drive but is ready to move forward into college at UNC Chapel Hill and pursue greatness.
"I'm very excited for College at UNC, and am still really happy with my time at Athens Drive," said Sattar.