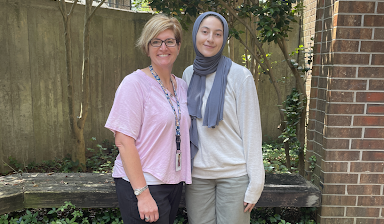 Photos by Grace Woodall
Farah Shaikh leaves the drive with a lasting impact
When asked, "What word would you use to describe yourself?" Farah Shaikh uses the word "persistent." Shaikh, a senior here at Athens Drive has been recognized for her incredible work and time spent at Athens.  Christine Worrel, a teacher at Athens was asked the same question she responded with, "I think she has a beautiful soul." 
"I have seen her grow from being super shy, and very quiet, to finding her voice, and using that in leadership positions," said Worrell.
Worrell described how she's seen Shaikh grow throughout the four years she's taught her, and how she's become a leader not just in the classrooms but in other organizations in the community. 
Another teacher who recognized Shaikh's dedication is Cathy Beavers, foods teacher.
"She was an outstanding student and very contentious of her work," said Beavers.
Shaikh is constantly praised by her teachers for her hard work and they described her as being very tedious with her work always turning it in on time and it always being perfect. 
"If you manage your time well, you end up being able to do more than one thing," said Shaikh.
Shaikh has struggled in the past with time management and says communicating with your teachers is very important to be able to manage time. 
"Don't let anything pile up," was her advice to incoming students.
She explained how it is important to know what is important because this is the path to succeeding in the future. 
Shaikh is going to NC State University and doing exploratory studies for her first year in college. Exploratory studies is for students who are still undecided about their major, and they have opportunities to go to classes every week to venture out and figure out what they want to do. For undergraduate, she is planning on doing humanities or business eventually going on to becoming a lawyer. 
Shaikh has left an effect on Athens like so many of the seniors graduating this year.
As she moves on to the next step in life she leaves us with a message:
"Always venture out and try new things because you never know who you're going to meet or what you like to do."