Photos by Ethan Adams
Senior Spotlight: Jonathan Remaley
Jonathan Remaley is an Athens Drive senior who works hard to complete his goals and will be graduating Spring 2023. After Remaley graduates, he is planning on going to seminary school to pursue a career in the ministry. 
"I grew up in a Christian home with two great Christian parents. My granddad was a pastor and he's very, very passionate, and I believe that I am too," said Remaley. 
Remaley is passionate about his plan to become a minister and has put forth the time and effort to succeed, but has also had other hobbies that he finds interesting.
  "I would definitely go with being part of a sports team, [and I've enjoyed] track and cross country for [the past] two years," said Remaley.
Throughout Remaley's time at Athens, he has enjoyed being a part of a sports team and has enjoyed encouraging other students to do their best too. Remaley has had a huge impact on his cross country team. However, they have also had a huge impact on him as well.
"He works really hard and he wants to do well when he decides that he is interested in it, he took it upon himself to contact me and find out the information about it, [and find out] what he needs to do," said Lori Lair, cross country coach at Athens Drive.
Remaley's coach is pleased with how much he applies himself to cross country as well as his other activities.
"I think that he has pushed his comfort zone by being involved in cross country and in track too, because he also does track," said Lair.
Remaley works hard to do his best in activities he finds interesting including sports and history.
"I remember him really enjoying [his] world history and then he took American history classes," said Elizabeth Ray, Curriculum Assistance teacher at Athens Drive.
Remaley's teachers see his potential in him because of his strong work ethics and the fact that he does not back down from any challenges. 
"Jonathan was a student who really worked hard to stay engaged during remote learning," said Elizabeth Ray, curriculum assistance teacher at Athens Drive.
Remaley has even enjoyed some of Athens classes and activities along the way, however nothing worth having comes without its own challenges. Remaley is one of the students at Athens Drive High School who has worked hard to overcome obstacles. 
"Jonathan's been really involved with both cross country and track and field, and you know, he is always attending the practices … Even last year when he fractured his knee and couldn't run, he was still [there] to cheer on his team and stay engaged," said Ray.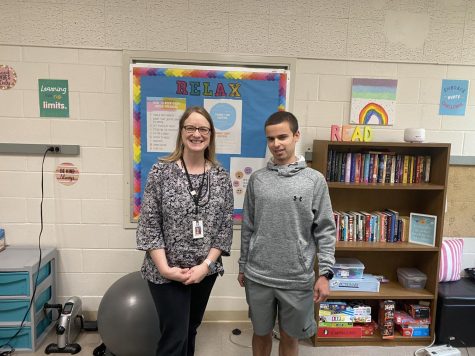 In school Remaley puts forth the effort to academically succeed as well as athletically within his cross country and track. He perseveres and does his best to succeed in any activity he chooses to try to complete. 
"Overall, Jonathan has just been a really hard worker and always done his best and all of his classes," said Ray.