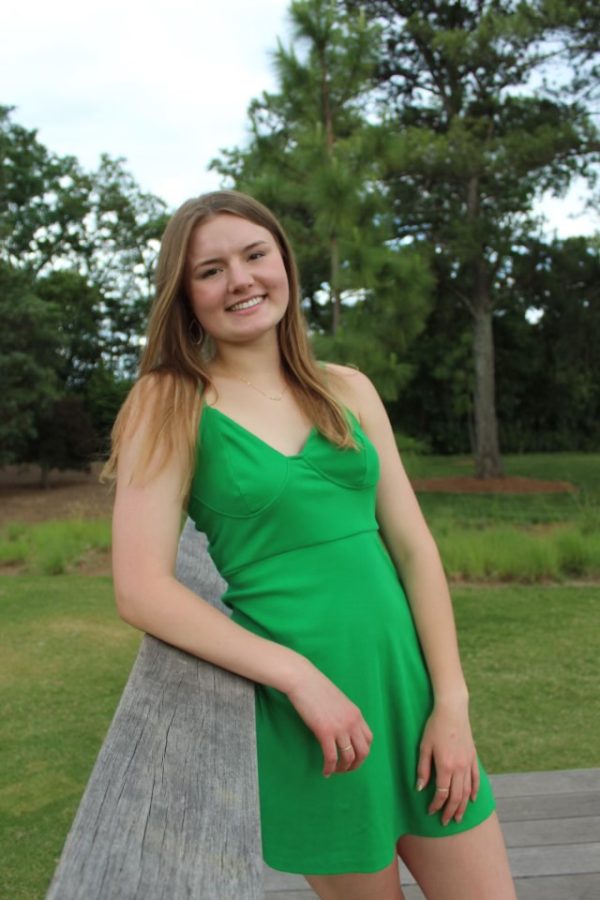 Photos by Isabel Kamper
Senior Spotlight: Isabel Kamper
As the school year ends, it's a time to shine some spotlight on seniors for their achievements and overall excellence.
Isabel Kamper is a senior at Athens Drive who, like many students, is involved in extracurricular activities. Kamper is a varsity cheerleader at Athens, and doing cheer at Athens since her junior year. Kamper is also taking a variety of AP and honors classes.
"I have become quite good at time management and getting work done in class and at school. I study during work breaks if needed and would come home and do math after practice and work," said Kamper.
Kamper has a 15-20 hour workweek; she balances all her extracurricular activities while getting good grades. She focuses mainly on school, but sometimes she misses out on some activities with friends.
"I also gave up a lot of social opportunities but tried to maintain friendships and still hang out with people every day in different ways," said Kamper.
Another thing Kamper involves herself in is the PEPI [Physical Education Pupil Instructor] program Athens offers for upperclassmen. She makes connections with the students and overall enjoys the class.
"Although she was a great student to have in class, what really stands out in my mind when I think of Bella is her integrity and strong sense of character. She would often come into class and talk about her work with PEPI; she was very passionate and would excitedly talk about students by name – showing she developed a personal connection with them- and it was clear that she found time volunteering with this program to be fulfilling. She really embodies what it means to be a student-athlete, peer leader, and role model," said Ashley Turner.
Kamper knows ASL, so she can communicate better with those hard of hearing. She is actively attentive when it comes to PEPI; she can be described as a warm-hearted individual.
"I aim to make others happy and feel better, just enjoying life and connecting on a deeper potentially joyful level. It makes me happy to be positive and around positive people or people I can help," said Kamper.
Kamper strives to help people and to bring positivity to others. She is going to continue her athletic career at UNC Charlotte while studying medicine. Cheerleading taught her some valuable life skills that show the type of person she is.
"I think that cheering for other teams and our school taught me the value of boosting spirit and positivity. I apply that in my day-to-day life, cheering on those who may need or want support," said Kamper.
Cheerleading brought valuable lessons to Kamper, and her participation showed that she is passionate about making the world a little better with positivity and spirit. She helps anyone who needs an extra boost of encouragement.
"Allstar cheer has been a long part of my life and taught me so much- including time management, perseverance, hard work, leadership, grit, strength, accountability, and so much more," said Kamper.
From athlete to support system, Isabel Kamper will be ending her high school career this year and moving on to great things.
"I'm excited to study the practice of medicine and hopefully work with kids of all kinds in an emergency type situation. Everything I've learned as a student-athlete strengthened my path and gave me tools to help me succeed in the future," said Kamper.