Photos by Blythe Holloway
Senior Spotlight: Camila Pierce
There are many qualities to make a good student: perseverance, creativity, dedication, interest and motivation. All of these qualities also define Athen's own Camila Pierce, varsity swim captain and senior. This year, Athens put up a poster of the senior in the 1800s hallway to represent the many student athletes at Athens Drive. Pierce excels not only as an athlete, but academically as well.
" I plan on going to M.I.T (Massachusetts Institute of Technology) and pursuing a 4-year degree in computer science," said Pierce.
One of Pierce's hobbies include coding, as she wishes to have a career in computer science, her other hobbies include swimming, baking with her friends and talking with people. One of her favorite memories of school was from her AP biology class, where she and her class planted leftover flowers from a lab.
"When the bio class used our leftover plants from a lab and painted them outside the class, now we have a pretty mosaic of flowers outside," said Pierce.
Pierce has gained attention from many of her teachers for her intelligence and kindness. When asked to describe his student in one word, Barry used the word benevolent, which is defined as "well meaning and kind."
"Camila remembered that I got a book titled 'What If?' by Randall Munroe after having had one conversation with her about it. She then proceeded to get me the second book as a gift as soon as it came out. This truly speaks to the type of person that she is," said Shane Barry, science teacher and swim coach.
According to Barry, it is Pierce's ability to work well with others and patience that truly sets her apart from others, and her admirable dedication to help others and be a leader.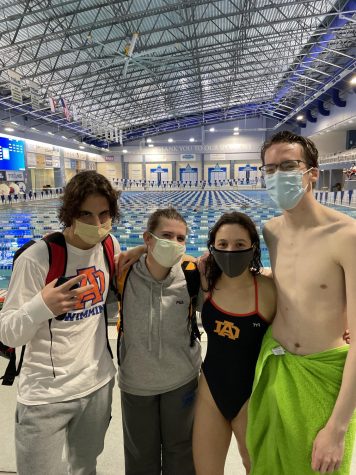 "As a freshman, she was the first female Athens swimmer to make the State Meet in years," said Barry. "Because she was the only one there, she had fun with it and wasn't fully invested. When her senior year came around, she was there with numerous other girls from the team and was the clear leader, keeping them focused and prepared to swim their best,"
Many people struggle with balancing school, athletics, and club activities. The ability to assess a situation and have the strength to let things go for one's own mental and physical health is one that not many have. Yet that is the ability the Pierce believes is most important, and one that she wishes many, including herself, learn early.
        "Learn how to compartmentalize, and prioritize, so don't let any aspect of school bleed into your swimming or any other activities you do. When you're taking time for yourself, take time for yourself, don't worry about all of your other responsibilities. Decide what's important to you," said Pierce.
Blythe Holloway, Lindsay Grant, Nora Richards, Sophie Haugh and Camila Pierce at High School States (Photos by Shane Barry)