Raleigh music scene changes overtime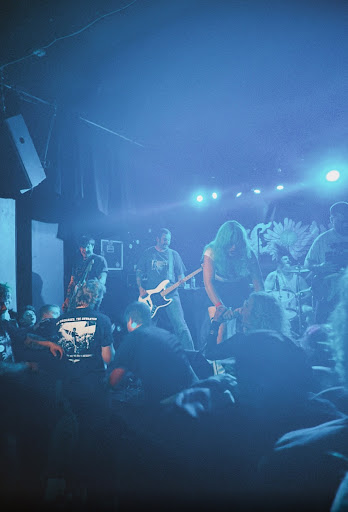 Most people wouldn't expect to see a teacher at a hardcore punk show. But English teacher Dylan McGee is a frequent hardcore show attender. 
North Carolina is a very musical state. Whether that be bluegrass, jazz, indie rock, and a handful of other things. Raleigh specifically has seen a rise in punk and hardcore in the past years. Even though the scene is small, it's not uncommon to meet someone who goes to these shows or knows of local bands. 
McGee has been into the hardcore scene since 2018 and has seen how it's changed over time. He states that the community has grown especially after the pandemic. 
"People used to take things too seriously and people could be rude at shows…I think it's definitely changed for the better," said McGee. The scene has grown significantly since the pandemic, with more people attending and more bands being formed. 
"Since the pandemic there's been a lot more people going to shows, a lot more people that I feel like wouldn't have gone before," said McGee.
Art teacher Laura Bernstein is someone who has been involved with the music scene since she was a teenager. With her first show being Sonic Youth at the Carrboro venue, Cats Cradle. Cat's Cradle is one of the most legendary venues in North Carolina with countless famous bands having played there. Since the venue is so close to UNC Chapel Hill it attracts a younger crowd that has been keeping the indie scene alive for decades. It also helps that Cat's Cradle knows what music their audience wants. As previously mentioned many bands have played there over the years including many big names like; Nirvana, Iggy Pop, Unwound, Elliott Smith, Foo Fighters and many more.
When asked what the biggest difference between the music scene back in the 2000s and now, Bernstein mentions,
"The amount of people at a show, and the location," said Bernstein. 
Overtime the music scene has grown in great numbers with more people attending shows. The primary way to see shows previously was through knowing people in the scene and going to underground venues or house shows. But now shows like that are uncommon with bars and big music venues being the main way to see bands. 
Although the indie music scene is thriving, North Carolina also has its fair share of mainstream popularity. J. Cole's Dreamville is an annual weekend-long music festival taking place in Raleigh that hosts many Rappers. And Hopscotch Music Festival is another annual music festival in Raleigh that is known for hosting memorable acts over a three-day period. Both have gained recognition and have large audiences.
"Shoutout 919."