Athens driving black excellence
February 15, 2023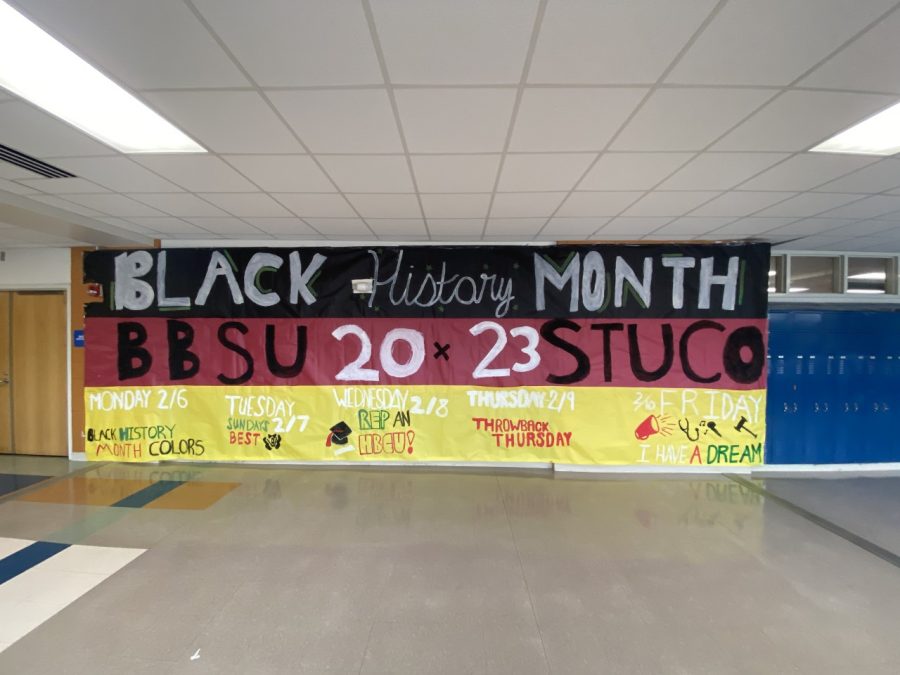 Photos by Taylor Malloy
The Athens Drive hallway is currently lined with a large poster detailing the different ways to show spirit for Black History Month. While the posters provide different things to wear in order to celebrate, there are many other ways that Athens shows their recognition of the historic month. Another way that Athens supports Black History month is through the daily morning announcements, where Shayla Wiggins,  assistant principal at Athens, talks about a significant figure in black history and highlights memorable quotes for all of February.
"I think it's important to know the history period. But especially with what is happening in our country, you know years and years ago, it's just important for us to know where we've come from so that it can inform where we're going," said Wiggins. 
Wiggins is very supportive of all cultures and has even given the Athens Oracle recommendations on how to showcase National Hispanic Heritage Month. Wiggins tends to be very invested in Athens and embodying its diversity. 
"Storytelling is a really strong way to share experiences and what has happened. I think it helps people make connections to humanity to the people in stories because we're all human we all can identify with a human experience," said Wiggins. 
Wiggins explored anecdotes that would be beneficial to students of all backgrounds. The information Wiggins shares during the announcements works to provide awareness in order to prevent ignorance of the subject. 
"Taking advantage of opportunities to educate ourselves, to invest in our own learning to develop skills and to be great people. To learn and grow and not take it for granted" " I can now appreciate that because I'm an educator," said Wiggins. 
Wiggins also advertises different events and activities related to Black History Month during the morning announcements. For example, the Black and Brown Student Union club holds different events including dance meetings after school that everyone is welcome to attend. 
"Although history isn't my go-to subject, I really like listening to Mrs. Wiggins talk about black history on the announcements, it brings students together even if history doesn't interest them," said Vy Nguyen, sophomore. 
Wiggins's anecdotes and announcements interest students of all backgrounds and give them things to talk about related to Black History Month. It's important for everyone to learn about history, especially history that is not always spoken about. 
"It's not just for little black and brown kids who need to learn their history, it's for all of us. We live together in this world and we're all impacted by each other. I think it fosters connection, understanding and empathy," said Wiggins.