The Fenton Experience
Fenton, located in Cary, N.C., is a shopping, dining, and living area that opened the summer of 2022. It has been a big hit over the summer and continuing into the school year, and many kids like to go there after school for some retail therapy, plus fun food choices. Although it's so new, it has become many people's go-to hang out spot because it is right in the middle of Cary.
The Fenton apartments are part of the complex, The Allison. The company Willowick Residential owns The Allison, and their ultimate goal is to create luxury apartments with complex designs, surrounded by the safe and vibrant location of Fenton. The Allison offers new studios with one, two and three-bedroom apartments accompanied by recreational amenities. Fenton creates a safe but lively environment to shop, dine and play, all at the accompaniment of being a short walk from your apartment.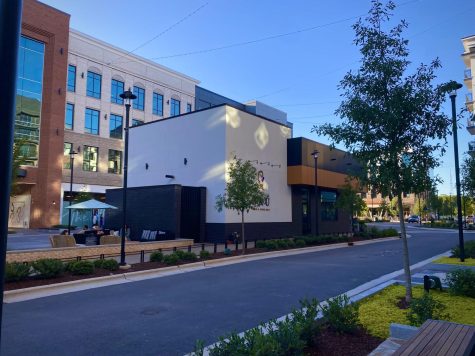 The restaurants at Fenton include Colletta with Italian sophisticated cuisine and wine, CRÚ with a diverse menu of foods and wines, and Dram & Draught with quality drinks and bites with local bar feels. Honeysuckle Gelato has mastered the southern-inspired gelato and sorbet and M-Sushi is famous for its traditional Japanese sushi and seafood. Superica has stylish Tex-Mex food and cocktails, along with The Agency Bar + Social which is an upbeat bar and a great place to grab a drink and catch up with friends
Fenton has a wide range of stores, varying from clothing to furniture. Altar'd State as a country chic clothing store, Arhaus has unique, handcrafted furniture and decor, Arula is a plus-side clothing brand, Athleta has activewear for women and girls, Bailey's Fine Jewelry, Free People is a women's bohemian fashion shop and Lululemon with technical athletic clothes. Nike by Cary has innovative athletic products, Pottery Barn has home and outdoor furniture and decor, Sephora carries various beauty cosmetics and fragrances, The Gatorbug Boutique carries fun upscale clothing, Southern Tide is a Southern-style clothing store, and Vestique has popular boutique style clothing, accessories, and jewelry.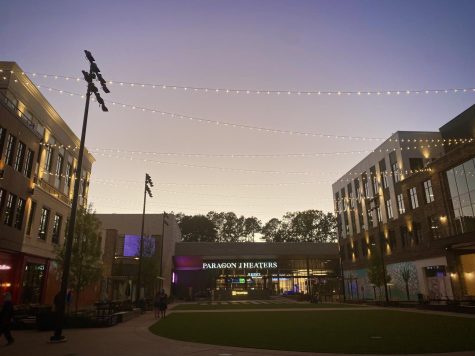 Paragon Theaters was highly anticipated with the recent development of the new shopping mall. The increasingly popular destination offers a variety of movies throughout the week, and strives to give everyone a luxurious experience at the movie theater. Each theater has reserved seating with premium leather seats and extended legroom. At the front of the theater there are food menus with classic movie theater snacks and food, and upon purchasing a Lux Box movie ticket people may order food and drinks throughout the movie. With a Lox Box seat you can scan a QR code on your mobile phone to order from ​​The Agency Kitchen & Bar.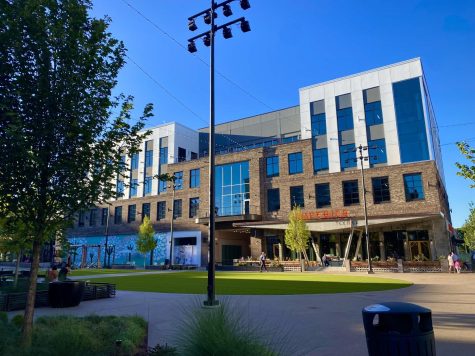 Fenton focuses on the simplicity and perfection of their location. It is on Cary Towne Blvd, which is just off of interstate 40, making it accessible to many different people and neighborhoods. Fenton's close proximity to Cary High School, creates a young yet sophisticated environment with its local [state apartment] residents. Many students from the local highschool choose to go off campus for lunch at Fenton or stop by to shop after school.
Another upside Fenton brings to shopping is that it is an outdoor mall, so people who feel pressured by Covid-19 and prefer to be outside in public settings may feel more comfortable shopping at Fenton rather than a mall where individuals have to walk from shop to shop indoors.All parking is free at Fenton, making it an easy place to shop til you drop without thinking when one's parking monitor is going to turn off.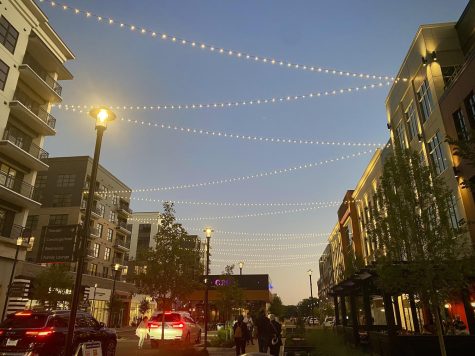 Fenton truly has a homey feel that makes many feel safe any time of day, and there are always people walking around to help people with directions or questions about upcoming events, stores, or restaurants. In the future Fenton would like to have events including live music and events to keep its schedule busy.
With its well-designed layout of shops and apartments, there are always new things to go and see. Fenton seems to be a popular place for many, and just keeps growing like the community around it.
"My favorite thing about Fenton is the vibe, everyone seems happy and I feel safe there. All of the stores and restaurants have a lot of variety," said Stella Andrews, student at Athens Drive.