The review, Darling
With rumors starting back in late 2020, fans have been waiting two years for the new psychological thriller, Don't Worry Darling, starring Hollywood actors Florence Pugh and Chris Pine, alongside British pop star Harry Styles.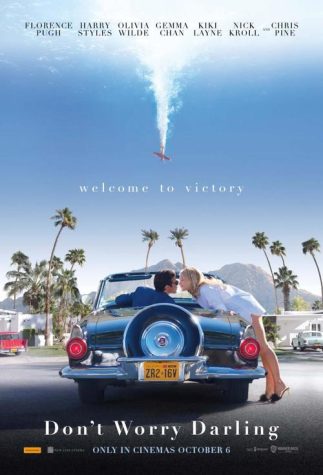 The film is about Alice, a 1950's housewife (Pugh) who lives with her husband, Jack (Styles) in a utopian experimental community and begins to worry that his glamorous company, Victory, could be hiding disturbing secrets. We follow Alice as she uncovers the truth behind what happened to her close friend, Margaret (Kiki Layne), leading her to question her preconceived notions about the town of Victory. At the same time Jack balances keeping her from getting too curious while yearning for the approval of his boss Frank (Pine), who is the founder of both the town and the Victory Project.
The interesting storyline, great cast and beautiful set, made Don't Worry Darling one of the most anticipated movies of 2022. Fans that have been keeping up with the movie were beyond excited for its debut, but were shocked to find a disappointing 38% critics review on Rotten Tomatoes. Reviews claiming that the film was "predictable" and at times seemed "choppy", left critics underwhelmed with the finished product. Although, the redeeming 74% audience score had people everywhere itching to watch it.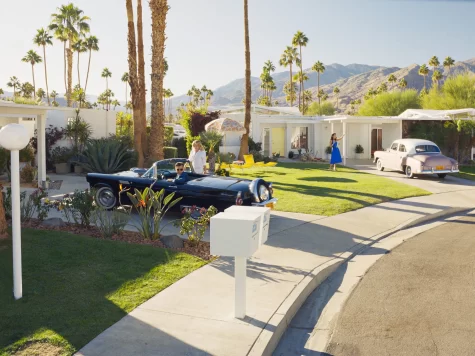 Production designer Katie Byron created a mid-century Palm Springs set consisting of blue skies, cookie-cutter houses and vintage cars, portraying the desired 50's picturesque life well. Think an idyllic version of Once Upon a Time in Hollywood, in which Byron worked on. The cinematography easily attracts audiences by creating a bright, pleasing, seemingly safe town which is followed with the characters' beautiful costumes and make-up to be a 50's throwback.  Coming in with true 50's fashion, viewers get to gush over pastel-colored pencil dresses, black and white tuxedos and Brigitte Bardot inspired hair. 
Spontaneously breaking the "perfect world" image with rather unsettling kaleidoscope visuals, splatters of blood and flashes of eerie dancing ballerinas that we get from Alice's perspective, we get the sense that something isn't right. With scenes that navigate us through Alice's daily to-do's varying from cleaning the house, folding the laundry and riding the bus into town, we begin to understand why Alice starts getting curious. As for the random "glitches" we see, she starts to put the pieces together. She confides in her husband Jack and close friends who assure her she has nothing to worry about and that she must be paranoid after what happened to her friend Margaret, who was ostracized for losing her mind. Margaret claims they took her son as punishment for asking too many questions and going against her husband's orders, which is why all the husbands and fellow housewives advise Alice to avoid her at all costs.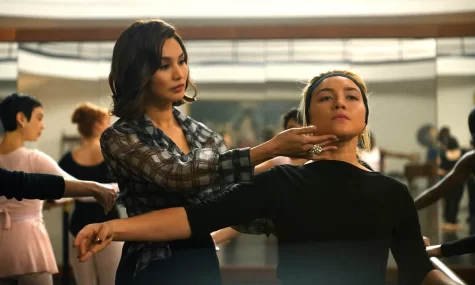 A cult-like theme forms throughout the movie with the constant repetition of phrases like "… to stay here, where it is safe," or "What are we doing? Changing the world." Both the female and male characters step into their 50's gender roles with their stereotypical jobs and hobbies. The women serve their husbands and participate in ballet where there is, "Beauty in control. Grace in symmetry." This mantra adds to the perfection and tenderness women are expected to display throughout the movie, or they will end up losing their mind, as Margaret did. On the other hand, the men have a set routine of working all day on the Victory Project to provide for their wives. While away, the women left at home experience unexpected earthquakes, which also adds to the recurring question, "What do they do when they are away?" Only receiving a vague description of, "the development of progressive materials," whenever asking the men, as what they do is confidential. 
With a few flamboyant 'romantic' scenes between Alice and Jack, teens may not want to watch this movie with their parents. Appropriately rated R, this movie is strictly for mature audiences. Along with violent themes, abuse and profanity, this movie deals with heavy, triggering topics. Trigger warnings stated at end of article.
Varying from Jack performing a tap dance, to wearing a yellow apron while singing about potatoes, Styles incorporates charming elements that make Jack a lovable and trusting character. Having only been in the historical action movie Dunkirk, and a surprise appearance in the after-credits of the Marvel movie The Eternals, fans were beyond excited to watch their favorite singer in his second movie. Styles captures the audience with a charming and emotional performance that proves the singer and newfound actor was meant to play Jack. He welcomes us with blush-inducing smiles and witty, heartfelt phrases that everyone would crave to hear from their partner. Throughout the movie, Styles has audiences in a chokehold, gaining our trust only to leave us heartbroken and wishing we trusted our gut, saving us from the unexpected plot twist.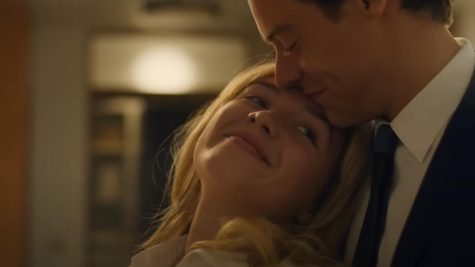 Florence Pugh is known for her outstanding performances in a wide variety of movies ranging from Little Women, Lady Macbeth, Black Widow and her most popular thriller, Midsommar, this film is no exception. She not only played the perfect Alice, but left us sitting on the edge of our seats till the very last scene. She portrays the classic, loving stay-at-home wife while teetering on the edge of insanity after everything she has witnessed. Pugh captures audiences, having us rooting for her till the very end of the movie. She brings psychological thriller to life with astonishing performances, thrilling car chases and unbelievably emotional scenes that will leave you questioning if anything is real. Although in this film she portrays a fearless woman, Pugh also brings a sense of relatability to Alice throughout the movie as she manages the push and pull effect of a toxic relationship between her and her husband Jack. Scenes between the couple vary from raging arguments, heartfelt embraces, to letting go of the person you love. In a few climactic scenes between Pugh and Styles, the chemistry between the two is off the charts. They play the perfect husband-wife in woeful disagreement, the product of which is heartbreaking. Their scenes are so raw and emotional, you cannot help but root for them in the end, which is an unfortunate reality for many.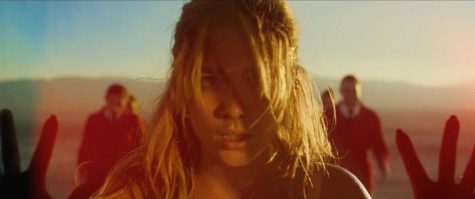 Along with comedic reliefs Asif Ali and Nick Kroll, villainous performances from Chris Pine and a shocking ending scene from Gemma Chan, these award winning actors bring together this mind-blowing psychological thriller to life. Arguably, the film would be more understandable with more appearances from central catalyst character Margaret and as critics said, the film is choppy and fast paced. Although, the suspense, confusion and edge Don't Worry Darling provides, leaves you enchanted from the opening scene. Despite the fast paced nature of the film, the movie is a must watch. Packed with plot twists that will leave you gasping in genuine awe and will have you talking about it for weeks to come. 
Don't Worry Darling is now streaming on HBOMax.
Triggers: abuse, sexual content, murder, suicide, blood, alcohol use, minimal nudity, violent content, profanity. Rated R, for mature audiences.